Boarding Overview
Solstice Farms is a full service boarding facility.

Included in full board are the following services:
2 feedings of Triple Crown or Purina feeds (up to 5lbs) per day
3 feedings of grass hay and/or alfalfa per day
Supplements fed daily - SmartPak and/or plastic containers only, no baggies please!
Blanketing during the winter months (45 deg F and lower)
Twice daily stall cleaning
Daily turnout in individual or shared paddocks, weather permitting
Indoor and outdoor wash racks with hot and cold water
Washer and dryer use
Access to covered, lighted arena for daily riding
Daily handling of all horses
Free trailer parking
Shared space for saddles and bridles in air-conditioned tackrooms
Tack trunk space in front of your stall
Year round Arbico fly predator program
Aquabec mosquito control - bacteria that controls mosquitoes and black fly larvae
Quarterly roach and rodent control that is completely safe for other animals including wildlife
Owner and grooms live onsite for 24 hour care and surveillance
Services available for an additional fee:
Medication administration (eye drops, etc) and wound care - $5/day or $25/full week
Daily stall fan usage during the summer months - $40/month
Fans purchased and installed - $85 (large, heavy-duty, 3 speed metal fans)
Trailering - $1.50/mile, minimum $75. $0.75/mile for more than one horse. $50 handling fee for driver to represent horse to vet, etc. if owner does not attend.
Grooming services - please inquire
Additional feed/hay - please inquire
Our boarders also have access to many local professionals including vets, massage and acupuncture therapists, that make regular visits to Solstice.  While boarders are welcome to use whomever they like, more information about our regular practitioners is available here.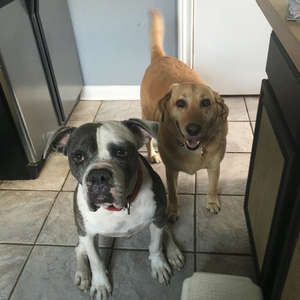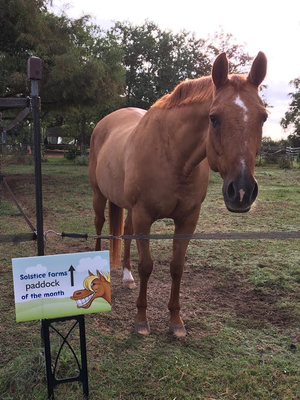 Solstice Security Team, Monet & Marlon
Facilities
Our beautiful facilities provide a quiet oasis just three miles south of Reliant Park . On-site security ensures a safe environment, and our riding arenas and fields provide an excellent riding experience and opportunity for learning and training.
Paddocks and Turnout
Safely fenced paddocks have grass for nibbling year round
Barns
3 barns with a total of 26 stalls, most with runs
Indoor and outdoor wash racks
Air conditioned, locking tack rooms
Space for individual tack trunks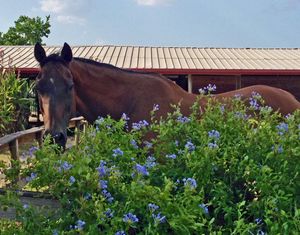 Riding Areas
Full-size covered lighted arena with mirrors, judge's stand, covered observation deck & excellent sound system
Full-size outdoor dressage arena
Large field for riding out
Small arena for beginner lessons and lungeing

Amenities
Air conditioned tack room / lounge / classroom with TV/VCR and mailboxes for all boarders
Large restroom with shower
Washer and dryer available for boarder use
Gardens and picnic areas near the arenas