Overview
We love to teach! Our preferred student is any age over 12, and at any level. Pre-requisites are a sincere desire to learn, and a passion for riding and horses.

At this time we do not have any lesson horses available for student use; all of our students take their lessons on their own, privately-owned horses on the premises, or on horses they trailer in from other places. All of our lessons are private, individual lessons so that students are given the utmost attention and personalization throughout their session.
Goal setting is an important part of our philosophy of growth and achievement. We strive to meet with all students and horse owners periodically to discuss their goals and plans.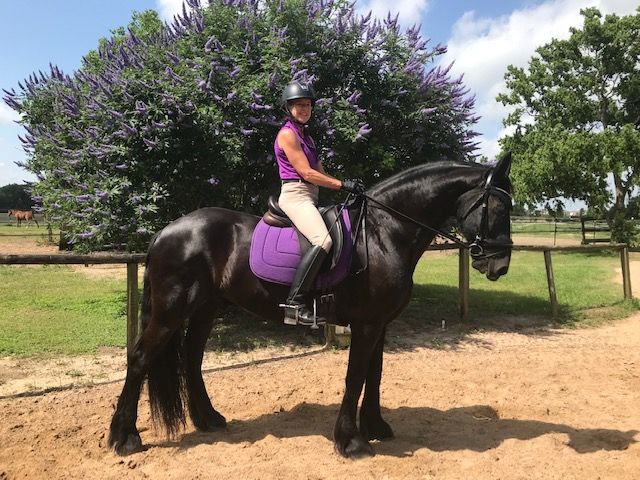 Fees
---
| | | | |
| --- | --- | --- | --- |
| Lesson Type | Duration | Fee with Privately Owned Horse | Fee for Trailering In with Own Horse |
| Private | 45 Minutes | $80 | $80 |

If you schedule a lesson on a school horse please arrive AT LEAST 20 minutes prior to your lesson start time, and plan for 30 minutes after the lesson ends to care for your horse. We firmly believe that learning to groom and tack up is an important part of your relationship with the horse.

Before your first lesson, we will need a signed and dated Release Waiver.  Please print out, sign, and bring a copy of this waiver (click here for the waiver) with you to your first lesson. 

Payment may be made for each individual lesson, or for a "block" of lessons; monthly lesson purchase plans are availble at a discoutned rate. There is a box provided for checks in the grooming area and in the tack room; cash or check only please.

Cancellation Policy

We understand that "life happens."  However, we can't schedule someone to fill your lesson time at the last minute. Therefore, you will be assessed a "half charge" fee equal to half the amount of your lesson ($30 if scheduled on your horse, $35 if scheduled on a school horse) if cancellation occurs 4 hours or less before your scheduled lesson time. Please notify Marie via text, personal email, or phone if you need to cancel your lesson the day of: please do not just erase your name from the online schedule.  No shows will be charged the full lesson amount.

 
Schedule
Scheduling is done through an online sign up system. Please contact us for gaining access to the signup schedule. We highly recommend making a commitment to a regular lesson schedule, and taking lunge lessons as often as possible to improve your seat.

*Note: Scheduling is subject to change based on clinics, showing, etc.  

Weekday Schedule: Wednesday - Friday
9:00 - 9:45 am
9:45 - 10:30 am
10:30 - 11:15 am
11:15 - 12:00 am
Weekend Schedule: Saturday - Sunday
9:00 - 9:45 am
9:45 - 10:30 am
10:30 - 11:15 am
11:30 - 12:15 pm
12:15 - 1:00 pm
1:00 - 1:45 pm