Background and Philosophy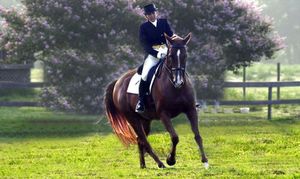 Choosing a stable and an instructor/trainer is an important and difficult decision. It requires placing your trust in another person for the care and development of your very precious friend and partner (and of yourself!). It is important to know your trainer, both as a professional and as a human being, before making this decision. I will be as candid as possible about who I am, what I believe in and how I approach horse care and training.

Working toward this vision, I have reached personal milestones as a rider, trainer and teacher:
 
USDF Certified Instructor - There are only a handful of us in this region who have taken active steps to improve our teaching and training through the USDF Workshops and Testing. We put ourselves on the line because we care about the future of the sport. For more information on the USDF Instructor Program go to their website. Certification is voluntary. Most of us had flourishing businesses already with a strong following of students and horses in training. But we wanted to get better, especially in the area of teaching. Of course there are fine trainers who are not USDF Certified, but my choice was to follow this path.
USDF Region 9 Instructor/Trainer Council Chairperson (retired in 2005) - Our sport is dependent on volunteers locally, regionally and nationally. Because of my belief in the Instructor program I have chosen to help the region in this role. Encouraging and educating instructors is one of the best ways to grow the sport. The Instructors page on this site is devoted to providing timely information to instructors in the region, and to Certified Instructors throughout the country.
Active FEI trainer, competitor and coach - Through the years I have trained several horses through the levels. Right now I am competing my horse at Prix St. George and seriously schooling the Grand Prix movements. I also have students who have successfully shown from lead-line through FEI to becoming members of the Century Club. I have created Freestyles for both myself and students and quite enjoy this creative side of the sport.
Charlotte Raisbeck Memorial Award for Exemplary Sportsmanship - In 1998 I was honored with this award (given annually by the Houston Dressage Society). It is also the most precious award I could ever receive. I was deeply moved that our dressage community saw in me the virtue I most cherish.
"L" Graduate in the USDF Learner Judges Program - I completed the testing in October, 2004. This training has given me an additional and insightful perspective on competition.
Yogi – I no longer teach the "Yoga for Riders" workshop but will suggest poses for students who are interested. Yoga has helped me stay sound and sane through years of riding. It has also given me a well rounded insight into body and breath control so important to riders. Solid grounding in yogic principles allows me to remain authentic and true to my philosophies of riding and life, so that horses and students alike get the best I have to offer, each and every day.